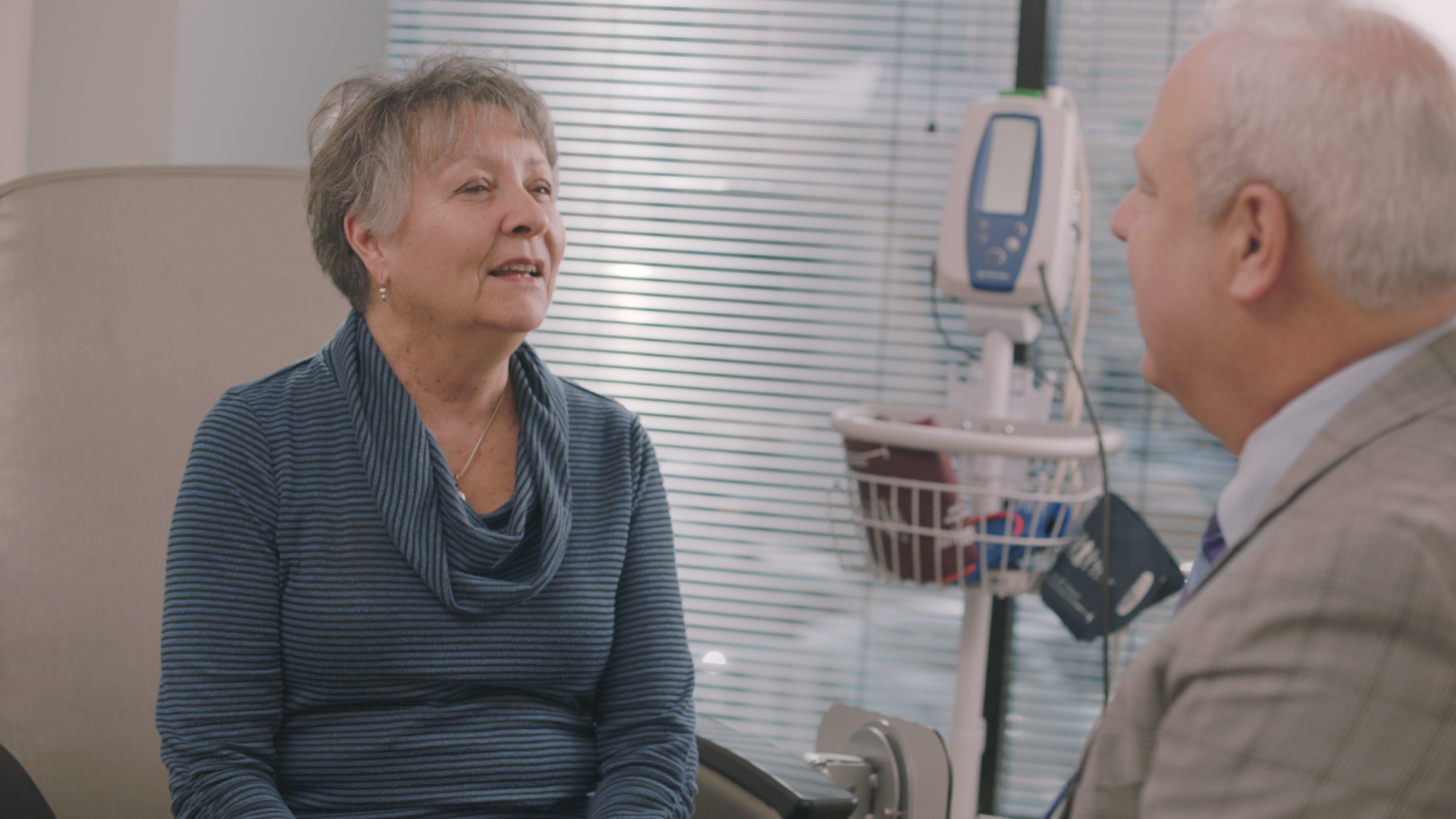 A graduate of the United States Military Academy at West Point, NY, Dr. Burris originally had his sights on becoming an engineer, excelling in chemical engineering and math. Yet all roads in his life kept pointing him in the direction of medicine.
"On arrival at West Point, you are assigned a family sponsor, and mine just happened to be a physician," explained Dr. Burris. "I wanted to help make a difference with the path I chose – and seeing the impact made by helping patients, really led me to reconsider my earlier ambitions."
Dr. Burris was awarded a health professions scholarship and enrolled in medical school in his home state at the University of South Alabama in Mobile, AL. After graduation, he began a residency in San Antonio at Brooke Army Medical Center.
Choosing Oncology
Though Dr. Burris was initially attracted to surgery, his clinical studies helped him to form a deeper attraction to the field of oncology.
"In one of my rotations, I worked with a dedicated group of oncologists who really opened my eyes to how unique the specialty was," said Dr. Burris. "I witnessed something I had not expected – the patients were caring for the doctor just as much as the doctor was caring for them. The cancer patient is so grateful for your efforts. The value of that kind of partnership is truly immeasurable."
Given such influences, Dr. Burris chose to continue a fellowship in hematology and medical oncology at Brooke Army Medical Center. Part of that training included rotations at The Cancer Therapy and Research Center, as well as The University of Texas Health Science Center, where he eventually became an associate professor. He also was named the director of clinical research at the Institute for Drug Development at the CTRC.
Early in his fellowship, it became abundantly clear that the most impactful way to help patients was through clinical research.
Improving Access to Novel Therapies
When the founders of Sarah Cannon's research programs asked Dr. Burris to start the first community-based drug development program outside of an academic setting in 1997, he did it without hesitation.
"Joining a team that was actually reaching more patients was the right choice for me," said Dr. Burris. "As the Cancer Institute of HCA Healthcare, Sarah Cannon serves cancer patients across the United States and United Kingdom," explained Dr. Burris. "Our programs diagnose over 100,000 new cancer patients annually and clinical research is a key component of advancing the care for each one of them."
With a mindset to do even more and find better therapies for patients, Dr. Burris helped lead the building of five drug development programs that now enroll over a thousand patients each, year to phase one clinical trials.
Transforming Cancer Care through Clinical Trials
Through his work, Dr. Burris has overseen more than 300 first-in-human clinical trials to date. "Some of those trials have led to the approval of new therapies, eventually benefiting thousands of patients. No matter the success or failure of the agent, each clinical trial helps us learn more about what is best for patients," explained Dr. Burris.
"Investigational therapies have come a long way during my 30 years of leading clinical research studies. The emergence and success of this generation of immunotherapies and small molecule targeted agents is truly amazing." More specifically, Dr. Burris said, "with the advances in understanding the biology, particularly through genomic sequencing in recent years, it is allowing me to offer more personalized options to my patients. It is always the best part of the week – going into an exam room and actively participate in a patient's journey in such a meaningful way."
Making an Impact for Patients around the World
Under Dr. Burris' leadership, Sarah Cannon has been a clinical trial leader in the majority of approved cancer therapies over the last decade. Meaning, Sarah Cannon's contributions to clinical research have helped countless people facing cancer around the world.
More specifically, Sarah Cannon's research work has helped to improve treatment standards for a variety of cancers including, but not limited to: breast, lung, prostate, head and neck cancers, colon, pancreatic, melanoma, Merkel cell carcinoma, Non-Hodgkin's Lymphoma and Chronic Lymphocytic Leukemia.
However, Sarah Cannon's leaders are not stopping any time soon.
In 2017, Dr. Burris' team dosed the first patient in the world for a study with a personalized cancer vaccine that will train the body to attack that patient's specific tumor cells. Most recently, Sarah Cannon was the first community program to bring the exciting new CAR T-Cell therapy studies to adults.
His team also has plans to open up more drug development programs that can reach a larger population of patients closer to their homes.
"We owe it to all patients to keep investigating more options—so that we can try and get the right treatment, to the right patient, at the right time – every time. And, that kind of commitment means that we have to work together in a more impactful way with our peers around the world," said Dr. Burris.
Unwavering Commitment to Patient-Centered Care
Collaboration is not easy, but Dr. Burris is well-positioned to improve the cancer community's connectivity.
In 2017, he was elected by the members to be President of the American Society of Clinical Oncology (ASCO®). More than 40,000 oncology professionals participate in the various activities of ASCO®. Currently serving as President-Elect, he will officially begin his term in June 2019. One focus of his term will be on bridging gaps in the oncology community by bringing together physicians, patients, regulators, pharma, and payers to help solve the most pressing challenges in the fight against cancer.
In helping to lead ASCO® as well as his colleagues at Sarah Cannon, Dr. Burris' work never stops. What keeps him going are the individual patients and their personal stories.
"I recently attended the 65th birthday of an active patient. About 10 years ago, she was diagnosed with recurrent breast cancer and wasn't sure she wanted to move forward with further treatment. With encouragement, she elected to participate in a clinical trial of T-DM1, now widely utilized to treat breast cancer, and had an excellent outcome. Because of her participation in that clinical trial, she's gotten to see her 2 daughters get married as well as the birth of 3 beautiful grandchildren."
Honoring Every Person's Contribution
While Dr. Burris knows that not all patients will be able to reach such milestones, he still fights for each and every one.
"One thing about cancer—it's a humbling profession to be in for the successes and the failures. The patients who step forward and participate in clinical trials know that what they are doing is more likely to help someone other than themselves, and seeing their strength is inspiring. I always feel my patients have given me the perspective, the motivation and the energy to commit to this cause every day. Uncertain of their futures, the patients come in for treatments, and are grateful to be a part of the process, which brings new perspective and inspiration to us all. We certainly couldn't advance therapies without their contributions and I always feel they've given me far more than I've given them."
Want to learn more about our research leaders? Check out our leaders here and stay tuned to our blog for more leadership profiles.