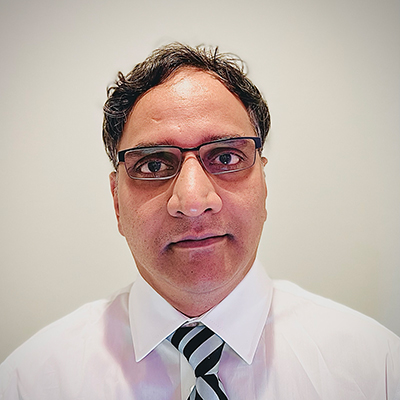 For Sridhar Nuthi, it was an early passion for science, technology, engineering, and mathematics, as well as a curiosity to know how different things work, that sparked an interest in engineering.
While this curiosity began early for Sridhar, now Vice President of Engineering for Genospace, it materialized during his undergraduate and graduate programs in engineering and computer science.
Fast forward to an impressive 23-year career in technology across TELECOM, mobile, digital, artificial intelligence (AI), and healthcare, Sridhar's passion and belief that technology plays a vital role in enabling positive outcomes for businesses and people alike, continues to drive him.
Joining Sarah Cannon & Genospace
Throughout his career, Sridhar has had the opportunity to experience the inventing, incubating, architecting, designing, and implementing of healthcare platforms, systems, applications, experiences, and AI. Sridhar's interest was piqued when he learned how Sarah Cannon and Genospace were applying gene and molecular-based AI for prescriptive clinical outcomes, and how this allowed for a unique opportunity to bring healthcare closer to individual patients.
"The proven precision medicine platform of Genospace combined with the impact that Sarah Cannon has had – and continues to have – on clinical oncology made the choice easy for me," says Sridhar. "In my role, I can help make a direct impact on patients."
Additionally, Sridhar admires both Genospace and Sarah Cannon for striving for clinical excellence and expanding access to research for people and communities who need it most.
In this role, Sridhar looks forward to an opportunity to be part of a team that continues to develop precision AI that will have the best clinical impact on patient outcomes – doing so through partnerships, integrations, and technology adoption to scale the offerings and make an impact on patients.
Looking Ahead
While personalization in the social network and ecommerce has taken off already, Sridhar sees a growing need in healthcare. He believes that the key to adoption comes down to how unique and precise patient markers such as gene data are connected to the broader healthcare ecosystem that spans the continuum of care.
Advancing Care
Sridhar is excited about the advances in genomics and the ability to process large amounts of data at scale and speed. He is eager for further integration of precision medicine beyond clinical research to diagnostics, treatment, care and delivery, and believes strongly that a focus in this field will greatly benefit the broader healthcare ecosystem in the future. He also sees the potential for pharmacogenomics and precision medicine applications to expand beyond oncology, and sees potential in the innovation and adoption of genomics in adjacencies such as clinical, digital, lifestyle, social, and environmental.