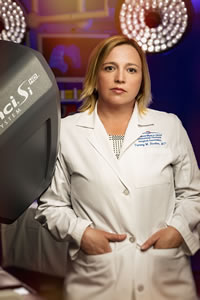 If you are someone you know has been diagnosed with lung cancer, it is important to understand the treatment options available to you. For early stage lung cancers, surgery is most often the recommended treatment.
Depending on the stage of lung cancer, tumor location, and patient's lung fitness, different operative procedures may be discussed. Common procedures include:
Wedge or Segmental Resection: Removal of tumor with a small part of surrounding normal lung
Lobectomy: Removal of lobe (or part) of the lung
Pneumonectomy: Removal of one entire lung
Sleeve Resection: Removal of lobe with part of bronchus (airway)
Different surgical approaches may also be available to you including minimally invasive approaches. You and your surgeon will discuss these options to determine the right plan for you.
Traditional open surgery is known as a thoracotomy. An incision is made between the ribs, which are then spread apart. The surgeon works through this opening to remove the tumor.
Minimally invasive surgery may be an option for your treatment as well. It can be performed either thoracoscopically with several small incisions, a camera and a small working incision between the ribs, or robotically with all small incisions and a camera. Minimally invasive surgery allows for removal of the tumor with a faster recovery for the patient and less pain.
"Lung cancer surgery has made tremendous strides in the last two decades," said Tammy M. Baxter, MD, Thoracic and Cardiac Surgeon at Sarah Cannon Cancer Institute at TriStar Centennial. "From an average stay of 7 to 14 days postoperatively with an additional several month recovery at home to now seeing my patients going home as early as two days after their robotic surgery with return to normal activities within a month is truly astounding."
If you have questions about surgical options for lung cancer, you can speak to a registered nurse 24/7 through askSARAH at (844) 482-4812.