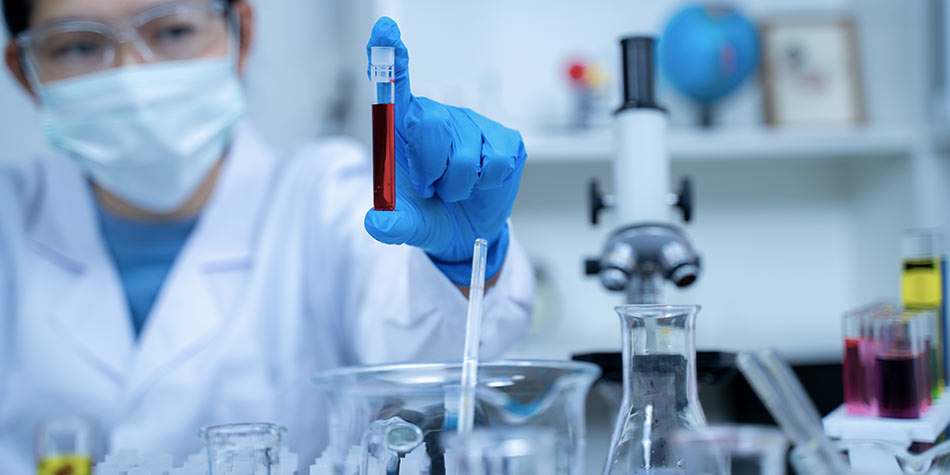 Two significant advancements in testing and therapy have drastically improved blood cancer treatment in recent years. Jennifer Domm, M.D., a pediatric hematologist/oncologist and stem cell transplant physician at the Sarah Cannon Pediatric Transplant and Cellular Therapy Program at TriStar Centennial in Nashville, TN, says the use of minimal residual disease (MRD) testing and immunotherapy have been two of the most significant breakthroughs in helping patients with blood cancer.
Minimal residual disease (MRD) testing for blood cancer
Minimal residual disease (MRD) refers to a tiny amount of cancer cells that remain during or after treatment. MRD is a significant cause of relapse in people with leukemia.
MRD testing allows hematologists/oncologists to detect microscopic amounts of cancer in the body, particularly after treatment, to determine if a patient is truly in remission or not.
"MRD testing has changed how we monitor, diagnose and treat patients," says Dr. Domm. "It's the cornerstone for how we evaluate patients."
MRD testing categorizes each patient's risk of cancer recurrence and the appropriateness of certain therapies.
"We're only as good at detecting diseases as the testing we use," says Dr. Domm. "With MRD testing, we can look for minuscule percentages, such as 0.01% of leukemia cells. Previously, we could only look at cells under the microscope with immunohistochemistry and by flow cytometry. Now we can look in more detail to see how well patients have responded to therapy."
This allows physicians to determine the appropriate next steps in treatment for the best health outcomes.
"When patients have even small percentages of leukemia cells, there's a risk that their leukemia may relapse," she says. "The reason MRD testing is so important is that it gives us information about a tiny amount of leukemia still present in the body. That then encourages us to move forward with different or additional treatment. It enables us to know the patient isn't truly in remission."
Immunotherapy for blood cancer treatment
Another major breakthrough for blood cancer treatment is immunotherapy, which allows physicians to target specific leukemia cells based on their unique protein markers.
"Immunotherapy involves using drugs that specifically look for and fight cells that are carrying a certain flag or marker on its surface," says Dr. Domm. "For example, one drug may look for 'flag A' and another drug may look for 'flag B.' For each patient, their leukemia cells have certain flags. When you use a drug that looks for the specific flag the patient has, the drug will kill that leukemia cell."
Dr. Domm says immunotherapy typically causes fewer side effects than chemotherapy and can sometimes be administered in an outpatient setting. Immunotherapy can potentially be a cure by itself or it can be used to get patients into remission so that they can receive a stem cell transplant, which is considered a true cure.
"Immunotherapy drugs are generally better tolerated and can be very effective," says Dr. Domm. "They may help patients stay in remission for a longer period of time or be cured."
Unlike traditional chemotherapy, which works by killing rapidly dividing cells, immunotherapy targets only cancer cells.
"With traditional chemotherapy, patients often experience hair loss, nausea, vomiting and mouth sores, which are all symptoms related to the destruction of rapidly dividing tissues and cells," she says. "You don't get these side effects with immunotherapy. Immunotherapy isn't without side effects or risks, but they're generally tolerated much better."
Who is a candidate for MRD testing and immunotherapy?
Both children and adults are candidates for MRD testing and immunotherapy, depending on their diagnosis.
"To be eligible for one of the immunotherapy drugs, you'd have a pathology study, which would look at your leukemia cells and determine which flags your cells are carrying," says Dr. Domm. "We would then match those flags with the corresponding available drug."
Currently, there are several immunotherapy drugs commercially available. Many drugs are also being studied in clinical trials.
"These clinical trials study when it's best to use these drugs in treatment protocol," she says. "Trials are also studying new drugs."
How clinical trials advance blood cancer treatment
"Clinical trials are essential for advancing blood care treatment," says Dr. Domm. In fact, immunotherapy was developed from clinical trials.
"Clinical trials help us pool all of our data so we can understand which patients have gotten a leukemia diagnosis and how they're being treated," she says. "We can continually compare what we're doing today with new treatments that are being developed, so we can decide in a few years if new agents should become the standard of care. Clinical trials help us get better at treatment and evolve what we define as the standard of care."
Learn more about blood cancer treatment at Sarah Cannon.