Sarah Cannon HCA Midwest Health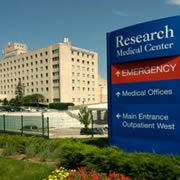 The Blood Cancer Center of Sarah Cannon HCA Midwest Health, located at Research Medical Center, provides specialized care for acute leukemia and complex blood cancer patients. The Program provides comprehensive outpatient services and a dedicated inpatient oncology unit supported by a multidisciplinary team of specialists and staffed by oncology-certified nurses.
Sarah Cannon HCA Midwest Health offers an Oncology Alert Patient Care Program, the only program in the region that focuses on promptly identifying and treating immunocompromised oncology patients arriving through the cancer clinic or the Emergency Room. The program provides special training to ER and clinic staff to identify and address the unique needs of chemotherapy patients.
Click here to learn more about cancer care at HCA MidWest Health.