Missy's Cancer Journey
"Cancer is not a death sentence. It is certainly a valley and you do go through a storm, but coming out the other side is triumphant."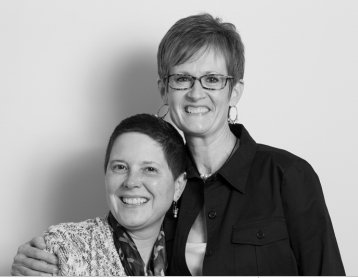 Like many women diagnosed with breast cancer, Missy, age 52 from Olathe, Kansas, remembers the exact moment she received her diagnosis.
"It was June 2014 and my husband, youngest daughter and I were taking a beach vacation and were on our way to meet our oldest daughter," Missy says. "We were an hour away from town when I received a call from the surgeon. I recall saying matter-of-factly, 'So, it's cancer this time.'"
Unlike many women who receive the diagnosis, Missy felt a palpable sense of relief at the end of the conversation. "It wasn't a complete shock to be diagnosed," she says. "I was glad that, after 15 years of breast biopsies, I could finally take appropriate action."
Beginning in 1999 when she was 35 years old, Missy endured eight biopsies, five of them which were surgical, after being diagnosed with lobular carcinoma in situ (LCIS) in both breasts. She developed a regular routine of seeing a breast surgeon and an oncologist as a proactive measure.
Missy also gained a heightened awareness of her body and its changes, which prompted an appointment with fellowship-trained breast surgeon Anne Kobbermann, MD at Sarah Cannon Cancer Institute at Overland Park Regional Medical Center.
"At first I thought it was scar tissue from the previous biopsies," she recalls after doing a breast self-exam. "I knew I needed to be checked out."
Missy was immediately surrounded by a team of experts, including nurse navigator Yvonne Ward. Kobbermann performed Missy's double mastectomy in July 2014. She then had reconstructive surgery followed by four rounds of chemotherapy at Sarah Cannon Cancer Institute at Overland Park Regional Medical Center and the second phase of reconstruction. "I knew that Dr. Kobbermann has an excellent reputation and associates herself with high-quality, dedicated experts, such as Yvonne, and my oncologist, Dr. Muzaffar Iqbal, medical oncology/hematologist with Sarah Cannon Cancer Institute at HCA Midwest Health, and a team of extraordinary nurses," Missy says.
"Many women think they have to choose their cancer team a la carte, but continuity of care is essential. I put my faith in my collaborative team. They had a plan and worked that plan, in unison." Just as Missy's hair was coming back after chemotherapy and she was regaining normalcy in life, her younger sister was diagnosed with HER-2 positive breast cancer.
"I'm glad I could be there for her like she was there for me," she says. "Although there isn't breast cancer in my immediate family, my two girls, both college students, will be checked at an earlier age." Missy now reports that her current health is the best it's ever been. "I take a couple of maintenance drugs and run, exercise and eat clean."
An advocate for hope, Missy is grateful for the significant advancements and technologies that have improved early detection, diagnosis and treatment of breast cancer over the past 20 years.