Since her retirement from teaching in 2004, Doris, a former teacher, has battled cancer four times. She was referred to Paul Shaughnessy, MD, Medical Director of the Sarah Cannon Transplant & Cellular Therapy Program at Methodist Hospital, San Antonio with an aggressive lymphoma in 2020.
Doris received standard chemotherapy treatment and relapsed, so her doctors administered a higher dose of the drug treatment. Unfortunately, Doris relapsed again.
Without seeing positive results from chemotherapy treatment, Dr. Shaughnessy decided the next best step in Doris' cancer treatment would be a powerful immune therapy. With the guidance of her care team, Doris enrolled in a research clinical trial for CAR T-therapy. CAR T is an acronym for Chimeric Antigen Receptor T-Cell, a very potent immune therapy that modifies the body's immune cells to help them fight cancer.
Doris was familiar with the therapy and was grateful to be a part of a clinical trial that could possibly help her and her oncologists learn more to help other cancer patients.
"Wow, if this could help me, great, if they can learn something about it to help others, even better," she said when recalling her eagerness to participate in the clinical trial.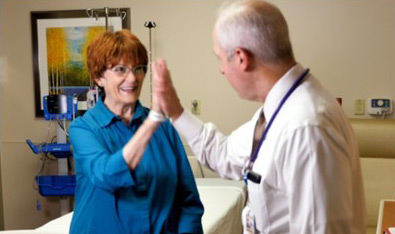 Doris' cancer care team collected her lymphocytes, which are immune cells, and sent them to a lab to be genetically modified to express the chimeric antigen receptor to fight her lymphoma.
"These treatments that really weren't even available even just five years ago have really helped people with this type of relapsed lymphoma," said Dr. Shaughnessy.
Following her CAR T- cell treatment in September 2020, Doris has been in remission.
Doris remembers being overwhelmed with gratitude for the people who supported her on this journey. "I've had really good treatments and wonderful doctors and very supportive family and friends. And I'm in remission now. I feel like I have a new lease on life. I'm really looking forward to being a little gray-haired granny."
Sarah Cannon is a worldwide leader in conducting cancer clinical trials. For more information about clinical trials, read Clinical Trials 101 – Everything you need to know. You can also askSARAH to be connected with a nurse who can answer your cancer-related questions.
"I've had really good treatments and wonderful doctors and very supportive family and friends. And I'm in remission now."—Doris
"I feel like I have a new lease on life. I'm really looking forward to being a little gray-haired granny."
—Doris