John's Cancer Journey
John, a mid-twenties and former Sarah Cannon colleague, never thought that he would be on the other side of the patient consent table.
John was diagnosed with Stage IV melanoma at the close of his very busy junior year of college. A little bump behind his ear didn't draw much worry and several doctors assured him it was nothing more than an erratic lymph node. After several months and a strict prescription from his mother to have it looked at by an ENT, surgery was deemed the best option. This surgery, John's first, went well but as he woke up on the operating table, he was met with looks of reservation from care team members- something he only noticed in hindsight. Soon, his surgeon appeared with news no one expected – "It's melanoma."
A large, malignant, necrotic mass of melanocytes had been found behind John's right ear and the bump he felt on the surface was actually a lymph node that had become stretched and inflamed as the cancer grew underneath it. Scans followed shortly after, revealing numerous lesions perfused throughout his liver and several inflamed thoracic lymph nodes with the same diagnosis: stage IV melanoma at the age of 21.
John was referred to the melanoma specialist at Sarah Cannon, his former internship employer, where an aggressive plan of action to beat his cancer was set into motion.
"My nurse, Mollie, if ever there were an angel in the field of medicine, it would be her and everyone who meets her knows it. To me, my care team was the most awesome dynamic duo that medicine has ever seen – and they were on my side in this battle."
John failed to meet the screening requirements for the first clinical trial proposed, a big set back at the time, but a blessing in hindsight. "It was only a bump in the road. It would be part of a long, but thankfully fortunate journey for me – one that would bring healing to my cancer, put hope back in my future, and pave the way for me to give back through my career at Sarah Cannon."
As luck would have it, another Sarah Cannon clinical trial had recently become FDA approved as a standard of care treatment for metastatic melanoma patients.
"These drugs are arguably the biggest advancement in cancer therapy, specifically melanoma therapy, made in recent history. Thankfully, this combination had been approved just five months prior to my diagnosis and I was started on it right away: every three weeks for four cycles. I quickly learned that a chemo room is more akin to a salon than any other place I could imagine – but with comfier chairs and happier clients and that side effects could occur."
As part of his experience, John also experienced debilating "tumor fevers" after his first infusion. "This really scared my family but my doctor explained that the fevers were indicating that the treatment was actually catching on to my cancer – a good prognostic sign; a blessing in disguise! He was right and those fevers were a turning point for me and since then I've really only had good news."
John's first round of post-treatment scans showed one of the target lesions had shrunk considerably and by the second set of scans, it showed response in all measured tumors – the drugs worked! Since then, John switched to a two-year opdivo maintenance regimen ("autopilot" as his care team would say) and he has seen continued shrinking of the liver lesions and disappearance of the affected thoracic lymph nodes.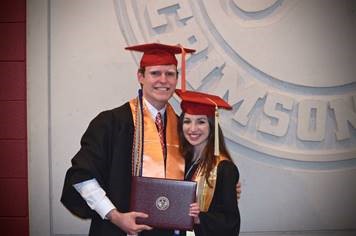 Since John's diagnosis, there has been no evidence of progressive disease or metastasis. John is now in medical school and recently got married.
"Between those trips for treatments was LIFE. Football games with friends, tests to cram for, and dates with my girlfriend (now wife), Ashleigh. Though the prospect of medical school was shelved immediately after the diagnosis, I was eventually able to re-study for the MCAT, get the score I hoped for, and receive acceptances from several wonderful schools. I honestly feel like, in many ways, life has improved since the diagnosis. I've been given the opportunity to live on borrowed time, and I've come to cherish and appreciate what was once considered mundane in my life."
John worked at Sarah Cannon as a Clinical Data Coordinator for the Drug Development Unit he began medical school in the fall of 2018. He hopes to advance novel cancer therapies like the ones that helped him.
"It's a blessing to be able to work alongside those who helped save my life and pave the way for other countless patients to find life, hope, and healing in the midst of a life-changing cancer diagnosis."