Nicole's Cancer Journey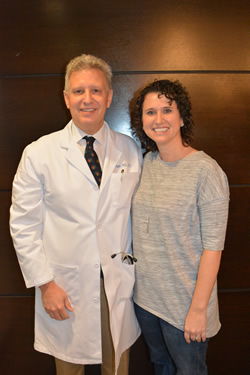 Nicole, a first-time mother at the age of 34, was in the midst of new baby bliss when she started to feel poorly but attributed her fatigue, shortness of breath and night sweats to childbirth, little sleep, hormone changes and additional stress from her family running a new small business in Erin, Tenn.
When her little boy was just three months old, her fatigue could no longer be ignored as she couldn't even make it up the stairs without being out of breath. Her family insisted she go to her local emergency department but she resisted, "I had a baby to take care of and a husband who had just had surgery. There wasn't time in my busy schedule to worry about me," she said. Upon further insistence, she went to the hospital on a Saturday where physicians suspected pneumonia but a chest scan revealed a mass, likely lymphoma, to be confirmed by a doctor on Monday.
"My first thought was how am I going to explain this to my husband and who is going to take care of my sweet baby? This simply wasn't in the plan."
Nicole was admitted to the hospital on Monday and diagnosed with Large B Cell Non Hodgkin Lymphoma, a blood cancer. She was referred to Ian W. Flinn, MD, PhD, Director of the Sarah Cannon Center for Blood Cancer at TriStar Centennial in Nashville, Tenn., where they took an aggressive approach to treating the cancer: in-house 24-hour chemotherapy every three weeks requiring week long hospital stays.
"Not only was the realization and treatment of cancer overwhelming but everything I had planned for my life with my child – breastfeeding, caring for him, etc. – went out the window. My whole family had to rally around me to make this work and I had to face this cancer head on."
Nicole and her family made it work indeed and her husband would bring the baby for quality time in the family visitation room. She religiously did her laps around the floor to make her stronger (40 laps a day!) and in November 2016, Nicole's scans were clear and she is now cancer free.
"I prayed that God would use me as a vessel to encourage others in their journey so I enjoy sharing my story. Now, I have to visit Dr. Flinn every six months for a checkup and to see my awesome care team. My care team couldn't have been any better to me and my family – they even let me out of treatment a little early on Saturday mornings so I could go to the University of Tennessee football games. You just have to keep living!"
"My first thought was how am I going to explain this to my husband and who is going to take care of my sweet baby? This simply wasn't in the plan."